My van in its minimalist "base camp" camper format using mostly my backpacking equipment and an inflatable air mattress. When sleeping inside the van, I like the inflatable mattress as it takes up little space when deflated, sets up in a few minutes and is one of the more comfortable options. The rest of my gear is all backpacking type stuff - sleeping bags (35° and -5°), backpacks, water filter/portable water storage, MSR stove, etc. I would like to add some window coverings for privacy when stealth camping.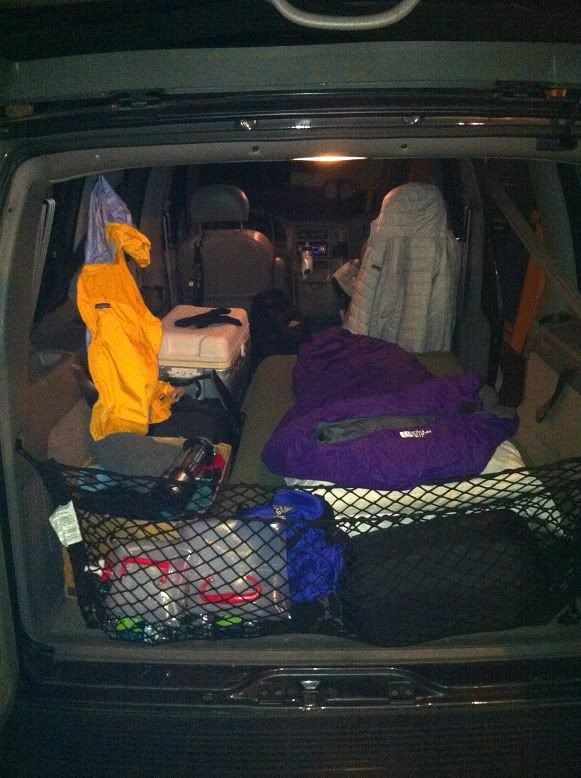 Going a little less minimalist but still camping style, my van with Camping Lab rooftop tent which mounts to roof rack folds out, pops open and supported by the aluminum ladder on the overhang side. I added four additional crossbars to the rack in order to help better distribute the load of the tent.
I love this thing with a decently fast setup time, it's up and out of the way, 3" foam mattress, great ventilation with protection from bugs and a rain fly to keep things dry it's very nice to sleep in.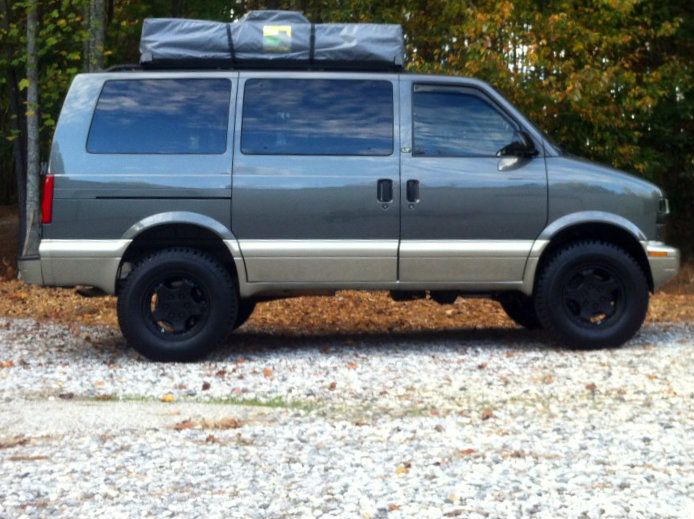 I originally wanted a smaller rtt that when set up, opens out over the rear hatch so I would have the passenger side free for a full length awning but this larger one came up for a great deal and so went with it and it's great to have the extra room for one - two people. When I do add an awning to the passenger side, I'll rotate the tent to open over the driver's side. This will give me more room to lounge and cook under the awning with easy access to the van.
With the van growing in height, I need to add a ladder extension to make the climb a bit less vertical. I usually place a folding aluminum work platform in front of the ladder for an extra step at the bottom and use another one under the overhang as a platform for cooking, eating, etc. Adding a changing room enclosure to the area beneath the overhang would be great to have for use a shower room as well.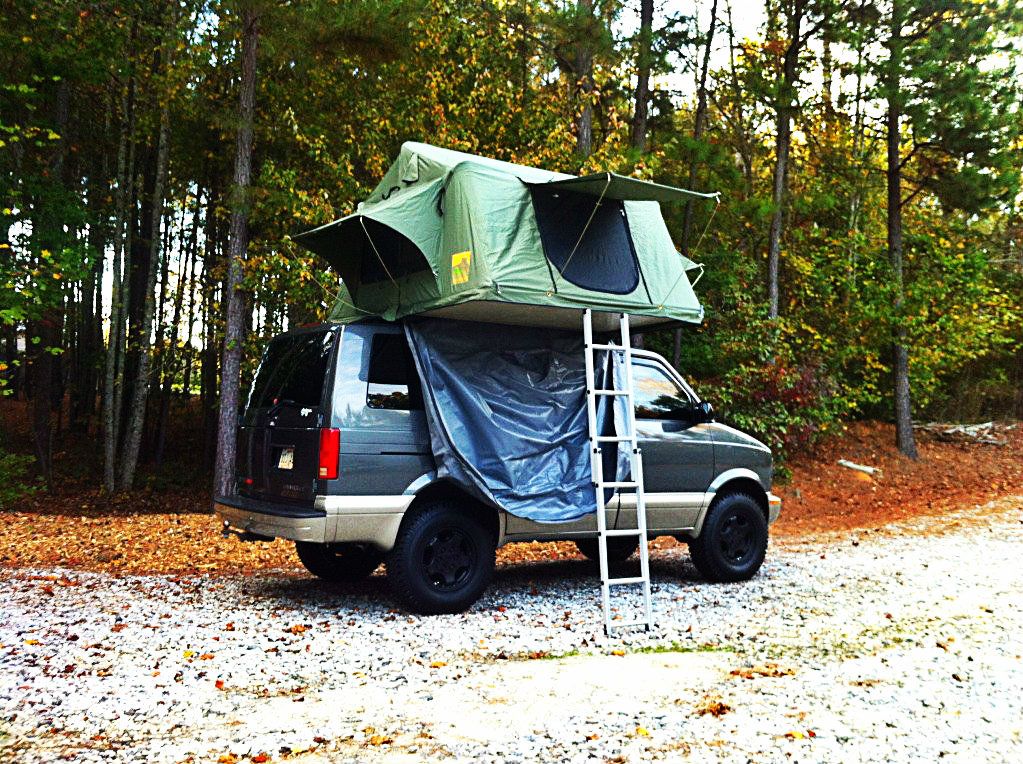 I'll be modifying the cover to roll up out the way as there isn't enough room to keep it stuffed between the tent and roof. I'll either add some rope rings and velcro straps to the overhang or make the cover detachable. Another reason to have it open over the driver's side, the cover hanging down wouldn't affect anything.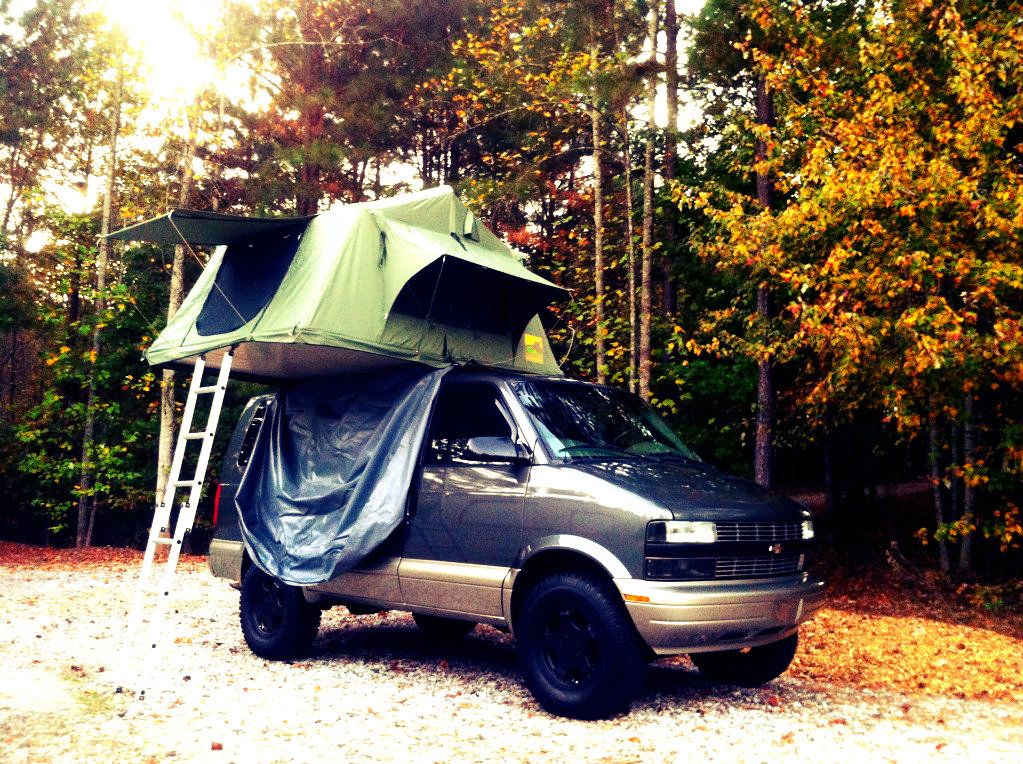 Lighting is the next hurdle, I'll be installing some led light strips inside the tent and on the overhang for some additional night lighting. I'll try to remember to get some interior shots as well.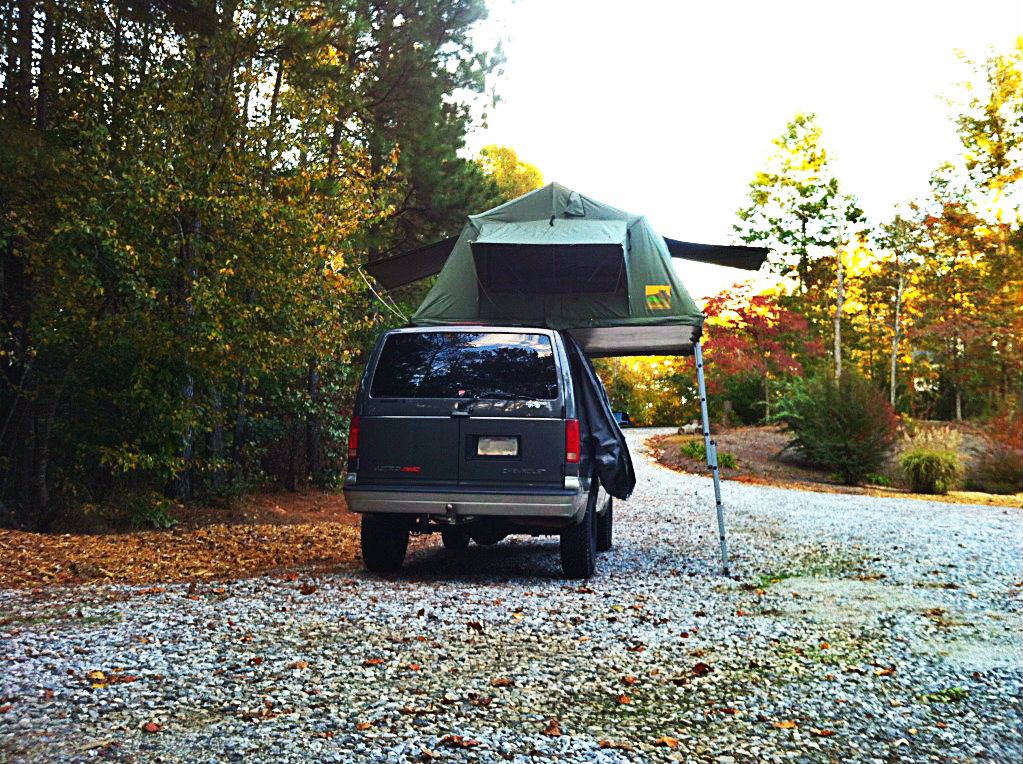 The tent is down right now for modification and a few small repairs. I also picked up two older vintage Coleman stoves, one three burner and a two burner, both Coleman fuel/white gas. The three burner is from the mid-60's and the two burner from early 70's. I bought them from the original owner and we both were excited they are going to see some use again!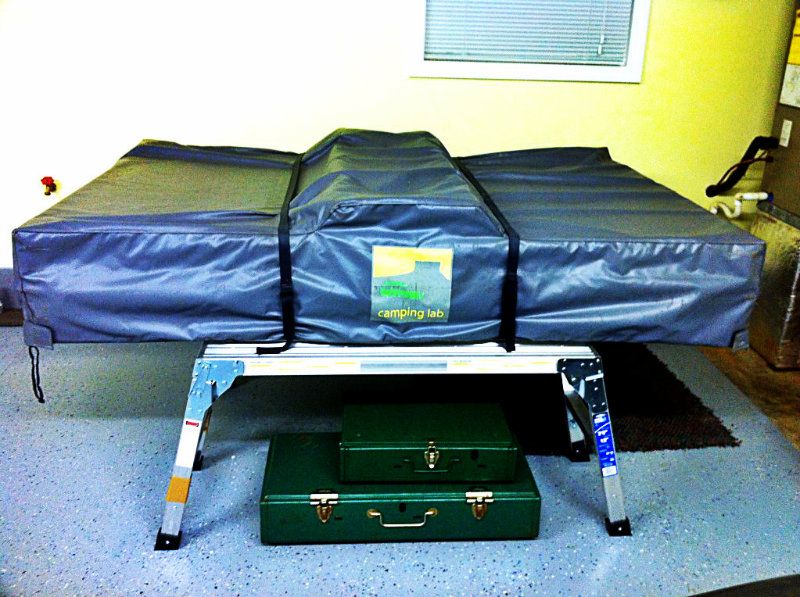 They both do work but before I take them out for use, I'm going to rebuild them and also try out a propane conversion kit to see how I like that. I can always keep that on hand and have multiple fuel options when traveling.