Discussion Starter
·
#1
·
Hey everyone, Wimpy here with a build of my new van; TK421!
Let me preface this by saying this up front... I need to raise money for an upcoming project that the boss says is outside the budget, so I am building this van to sell (although I might end up keeping it, it's gonna be pretty rad).
All projects will be outlined with build steps, PN/ supplier references w/ links when possible and of course shout-outs to any other user posts/ ideas. This is gonna be a BLAST! I L O V E this stuff!!!
I was up in Stockton CA on business and like I usually do, was surfing Craigslist when this van popped up...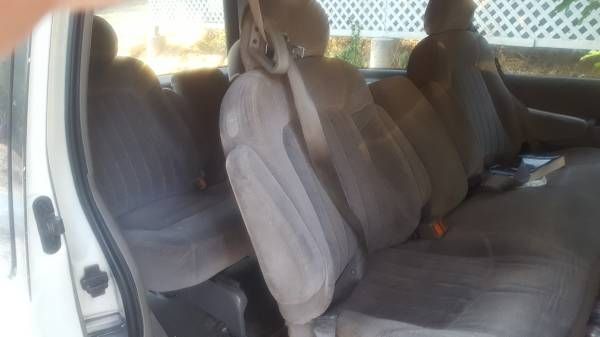 2000 Safari AWD SLT
- Rear Heat & AC
- 3.73 gears
- G80 posi-traction rearend
- 130K miles
- Body near perfect, ZERO rust!
- Cool rear seats
PLANNING PHASE:
The overall motto for this project is GO BIG OR GO HOME! Using some of the great builds and ideas from our fellow members here, the things I learned from this forum and by building the BatVan (aka Wimptech), here's the initial plan:
- 4-6" DIY Lift, Lumpy-Fab & TurnNBurn Tech based
- NP233 TransferCase Swap w/ push button control by Gavio
- Tires/ Wheels (Jeep Take-offs)
- Wimptech Jeep front bumper mod w/ winch & bush guard
- Wimptech rear Jeep bumper mod (pending)
- Wimptech android-based control panel
.... bluswitch wireless accessory controler
.... Torque real-time data aquisition
.... audio/ visual entertainment center w/ bluetooth audio
- Wimptech Safari Rack w/ front LED bar, Rear LED spot and alley lights (pending)
- ARB or similar roll-out awning
- Herbie-tech rear Jerry can holder
- Solar panel
- Interior build:
.... Kitchen/ cabinets by diycamperkits
.... Full insulation w/ hard wood floors by TurnNburn
.... Folding rear seat/ bed with storage
.... Passenger side swivel seat
.... Sliding center console, inspired by Lumpy-Fab and Borzoi
.... Modified 'Tesla' battery box by Cargocrawler
.... 2k pure sine power inverter
.... Mini fridge, sink, onboard water, etc.
.... FANtastic roof fan
.... Outdoor shower
Build Time= 6 months, which means 12 months in Wimpy-years.
Mock-up: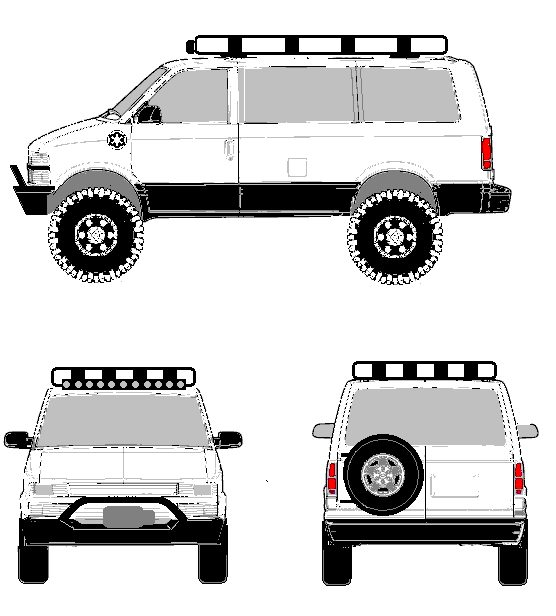 Currently Known Issues:
- ABS and Brake light on; suspect ECBM solder issue
- AC system nonop
- Cyl #6 misfire code stored, not active
- Minor exhaust leak
- This thing is FILTHY! Need to detail inside and out!
As always, your advice and input is welcome and greatly appreciated!