I got this van about a year ago and have put a ton of work into it...even tho it looks like a
junkyard
dog
on the outside!
It's a 2003 awd with the G80, it wasn't born with the G80, that came later but it does have Rear air, rear heat and tow package
Here she is shortly after I got her and had started working on all the small dents and dings, thats why all the multi-color paint. Got it for $1900 with 154k on it, it had been neglected during its life even tho it was a 2 owner van.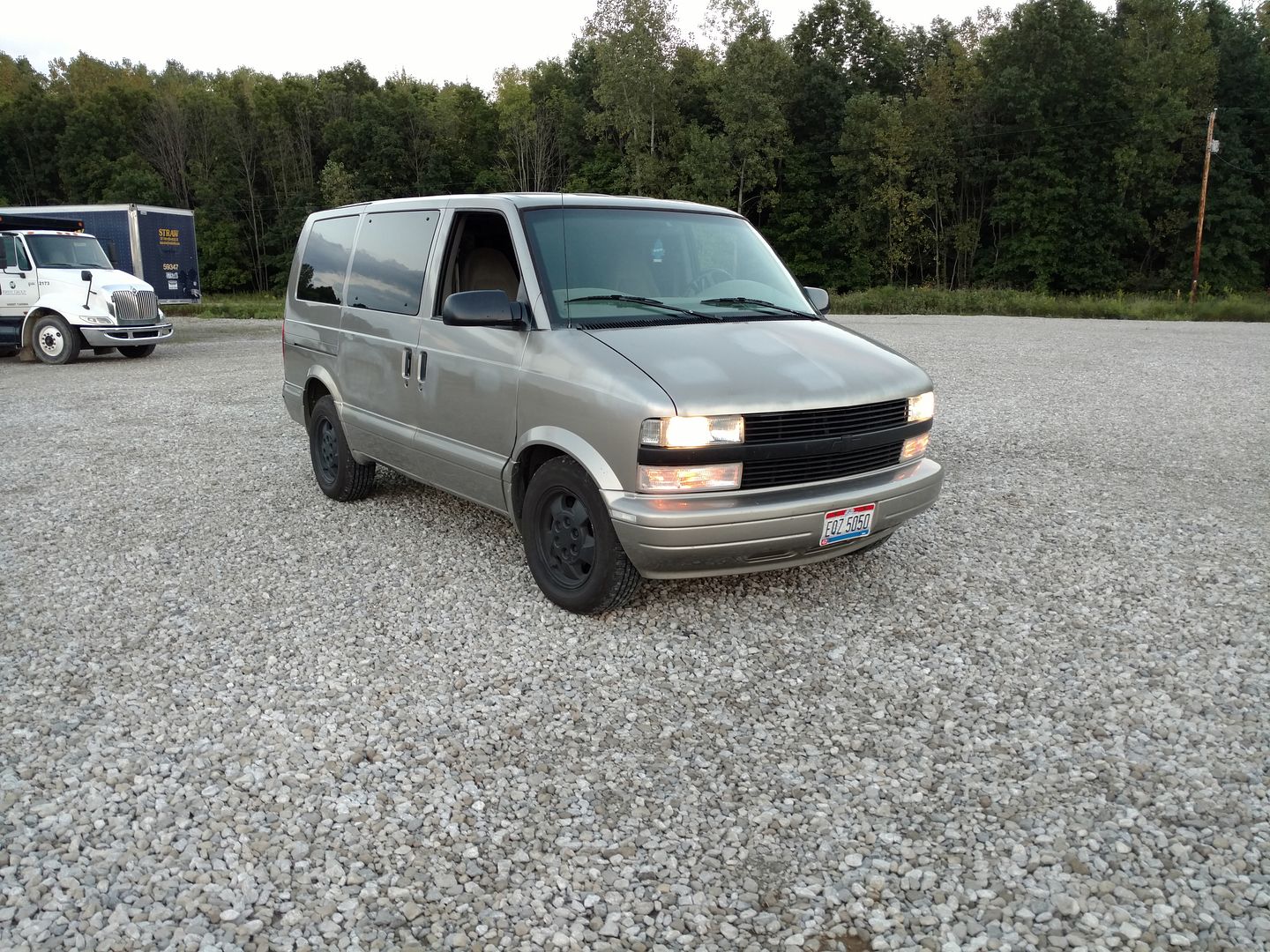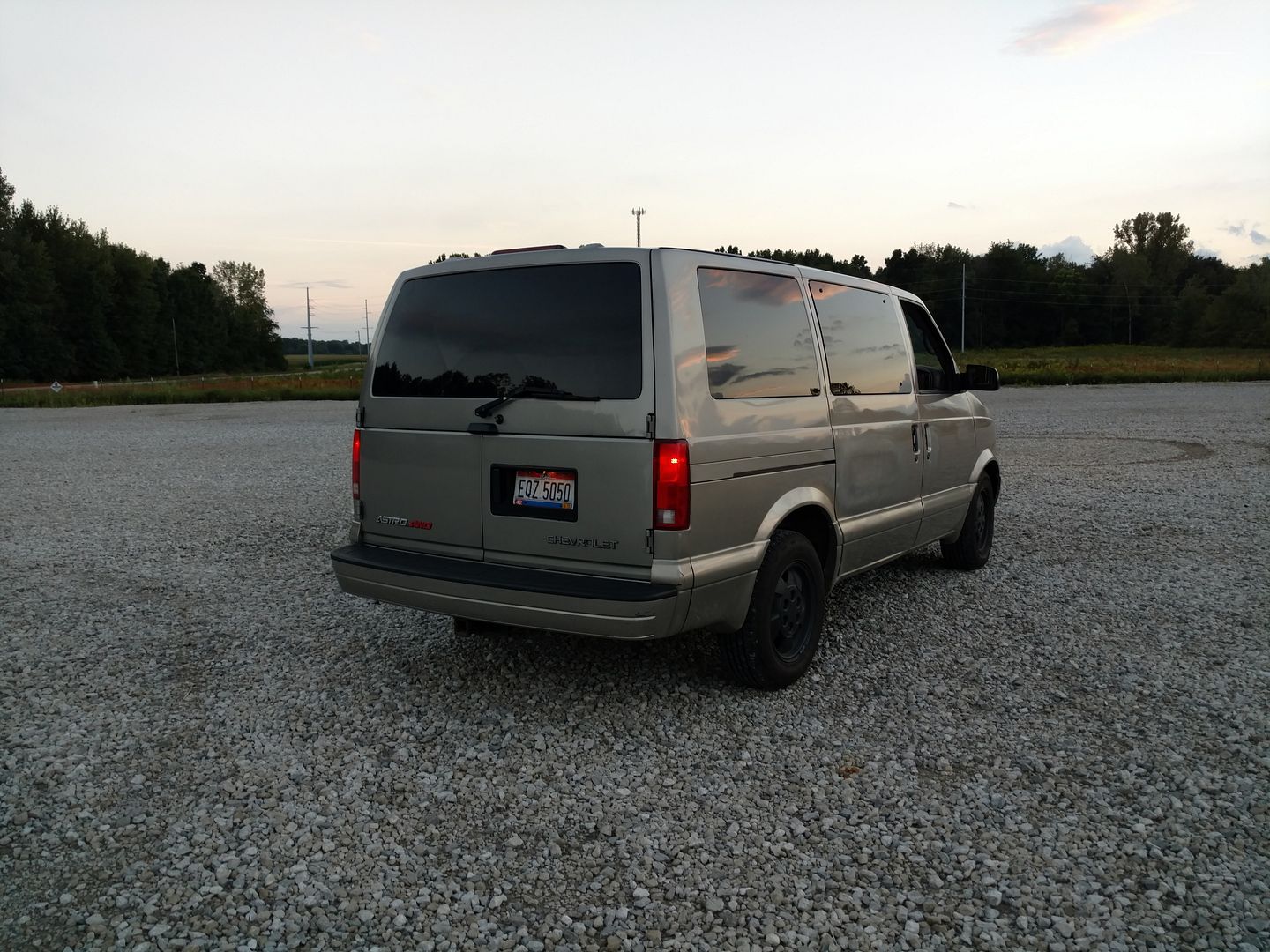 I drove it straight home and put it in the garage to fix it's neglect.
Heres the short list of what i did:
ACDelco Plugs and wires.
New ACDelco distributor, gear was worn BAD!! That fixed the check engine light.
Shocks, they were shot. Used Monroe OEspectrum, very good shocks so far.
New front sway bar with poly bushings, pass side end was broke.
Fuel filter.
ACDelco Fuel pump, pressure was low.
Fuel injection spider, pressure was leaking off. That made the van run SO much better
02 sensors, all 3.
Crank position sensor.
OEM ACDelco Motor mounts, NOT a fun job. That fixed a weird shudder it had going over bumps.
Trans mount.
U joints front + rear + the cv on the front drive shaft. And both shafts balanced.
Re-flowed the solder on the ABS module, that fixed the ABS and brakes dash lights.
And then a relearn on the Tech2.
After that I chased a vibration at 55+ mph, turned out the diff carrier bearings were pretty shot so in went the G80.
The trans had a weird, sliding,slipping shift so I looked around and found a really good deal on a low mileage trans + transfer case, both under 90k miles so I slapped them in. I also replaced the valve body with a rebuilt one with the sonnax upgrades and a corvette servo.
Then came the transfer case rebuild. fairly straight forward repair, new clutches and it was good as new.
This is what the oil in the T-case looked like, burnt clutches.
Then it was time to work on the suspension, all of the bushings on this van were pretty bad.
Mr. postman delivery. Upper/lower control arms both side, 3+1 springs and front mounts, wheel bearings, timing chain + gaskets and oil pan gasket.
I don't have many pics of the install as my hands were pretty dirty, lol.
Here are some of the control arm bushings.
And the one stuck control arm bolt that I had to cut...giant PITA!
The wheel bearings were STUCK so i took them to the napa machine shop and had them pressed out.
One housing cleaned, anti seized and ready for the bearing.
In the midst of all this I did all the tierods, center link and new Delco steering box, it had pretty loose, scary steering. I don't think it had been lubed in its life. lol
The last of the bushings on the van were on the front differential, so while I had it dropped to changed the oil pan gasket I checked/replaced them. The 2 on the drivers side looked like new, the pass side were somewhat worn.
After all that it ran and shifted like new, lots of power and quick, firm shifts.
But I was still getting some rumble noise and a crunching sound on the passenger side when going over speed bumps.
So i pulled the subframe bushings and replaced them.
They were pretty bad!
After that it goes down the road so smooth and quiet its crazy!
Then of course the lower intake manifold gaskets went!
While it was apart I replace the 2 heater control valves and coolant tank
And then I did the Efan conversion and underdrive pulley.
Just started the wiring in this pic
Those 2 mods made a HUGE improvement in performance!!
And then on to led interior conversion.
I also did the headlight switch and all the door switches in blue led.
I picked up a set of rims.
and ran them for a little while, the only pic i have of it with the rims...on street tires.
Close up of the turn signals
Rear dome light mod, So I can turn it off/on when I open the rear hatch.
Before
After
LED backup lights
Before
After
And tinted tails
Awesome decal!
And replaced the missing/rotted rear bump stops.
That pretty much brings it up to date.
I got some new door handles to put in but haven't got to it yet.
And the homebrew lift kit just came in!
Lots more to come....stay tuned!!!