Recently sold my stock LT leather seats to a member here and so was able to finally purchase a set of sport seats for increased comfort while driving.
Stock seats, sold.
My two choices were both Corbeau brand seats as they are very nice bang for the buck - either the more classic Sport Seat or the newer and slightly sportier styled Baja XRS. Having had Corbeau GTS II seats in my old '97 Safari awd, I was interested in something with less aggressive side bolster on the seat base to ease entry and exit yet still offered additional support.
In the end I went with the Baja XRS for a few reasons - the seat base was slightly longer which is nice for longer leg support, the memory foam sounded nice and they are suspension seats (if perchance I should ever require such a feature!), I like the look and they turned out to be a great deal. I chose full black vinyl due to ease of cleaning/care and longevity. My old GTS II seats were black cloth which faded and wore through the side bolsters over time so hopefully these hold up better.
I purchased the seats from
http://www.apexperformance.net
and can't say enough about them, very helpful, pleasant to deal with and great pricing! I actually purchased my other Corbeau seats from them about ten years ago, so repeat customer too. I'll be looking to add seat heaters and maybe seat saver covers at some point so they'll get my business again for sure and recommend them to anyone who may be interested in new seats or any of the other products they offer!
With the LT trim package my van came with leather and a power driver's seat base but my preference was to ditch that and go manual (or so I thought) so picked up another seat base at the local PnP for the driver's side and the nifty underseat sliding drawer to use on the passenger side.
I still have the Corbeau seat brackets from my old seats but they are 600 miles away so couldn't use anyway and didn't want to drop another couple hundred bucks on new brackets while thinking I could make do without. I also don't like how much the Corbeau brackets raised the seat height inside the van, as a little goes a long way.
Just know that it is possible to mount Corbeau seats on stock Astro / Safari seat bases without purchasing new adapter brackets by measuring and drilling out the power seat base or for manual base drilling two holes in the Corbeau seat brackets.
In the end, I kept the power base for driver's seat because there was enough metal to easily drill attachment points for the Corbeau mounting hole pattern (11 3/8" wide and 13" length). It was pretty straight forward with the template I made for a guide. I performed some minor trimming to the side cover metal brackets and plastic trim so the seat would sit flat on the metal base. The plastic trim had a small lip which stuck up about a 1/4" too far so used a belt sander to level out. I zip-tied the side covers to the old mounting points to keep everything in place until the seat was bolted down.
Basic template bolted to stock mounting points on power base and marked for Corbeau bolt pattern. The Corbeau seats now have multiple threaded inserts on the base instead of just one bolt pattern and are threaded the same as stock hardware which is convenient.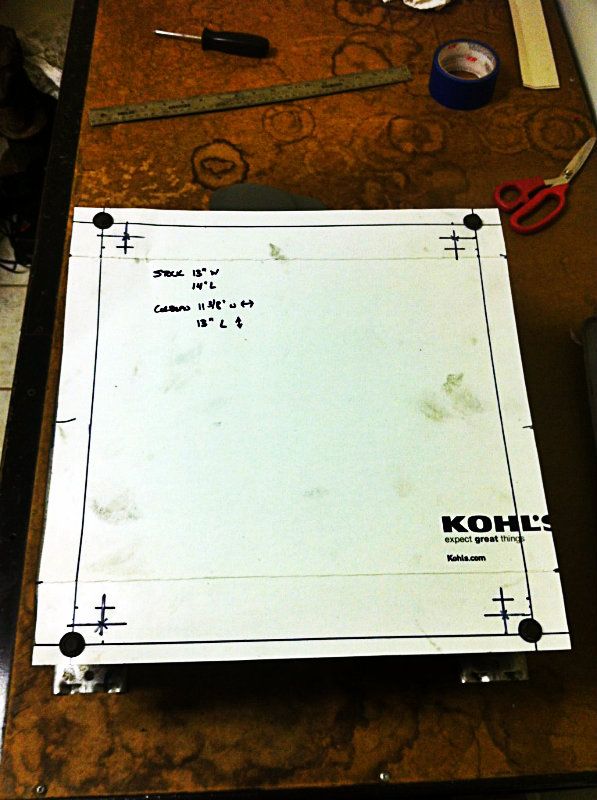 The power seat base is shown on the passenger side for ease of test fitment here. There is a bit of
wiggle room
when mounting seat base to studs on floor to get alignment just right when drilling new holes and mounting seat to base.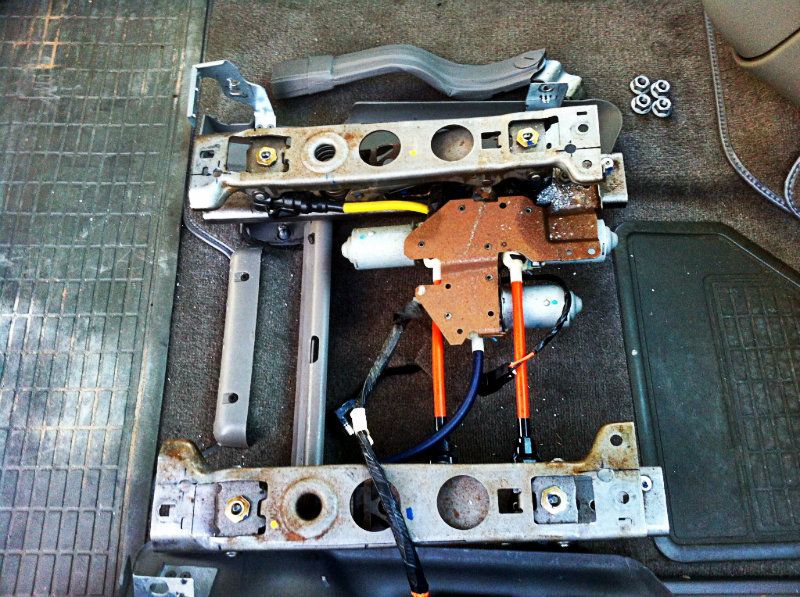 I didn't take any photos of the passenger seat manual base install but was able to use two of the mounting holes on the Corbeau seat and drill two more holes using nuts to secure factory hardware, all while keeping seat as close to centered as possible. Both seats are exactly the same distance from the b-pillar trim on both sides with recline mechanisms close, but not quite touching trim. I'll be taking the seats back out again to vacuum and clean (dirty from trip to PnP and using inside as work shop with metal shavings all over) so will add additional photos of manual base install later.
Installed, super comfortable, plenty of adjustment, very close to stock height and don't slide around anymore while driving.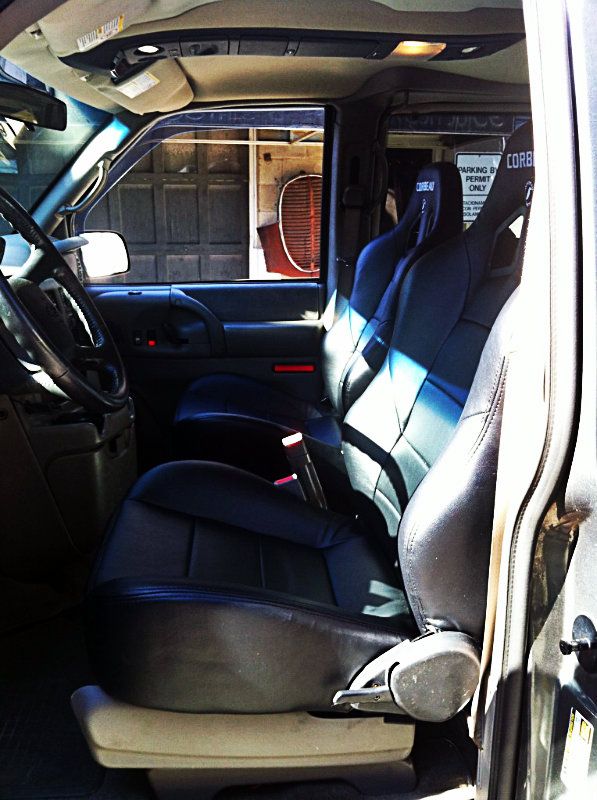 I may adapt another power seat base to the passenger side if I can find a decent one at the PnP because the additional adjustment potential makes it really easy to find a nice and comfortable seating position.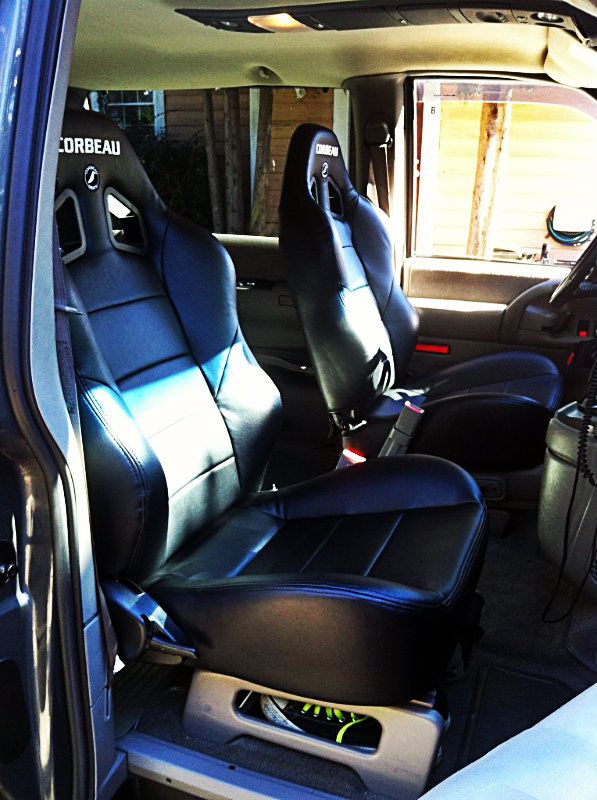 I will probably black out the Corbeau embroidery and logo on the seats like I did with my old set to tone down the
boy racer
aspect there. In retrospect, if I could have ordered them sans embroidery and logo I would but that is a small detail and I am very happy with the comfort of the new seats, the vinyl appears to be of high quality as does the feel of the seat foam and so far I am not missing having an armrest. The planted feel while driving gives the illusion of additional stability while still being roomy enough to move around if necessary.