...is almost done!
At first, I wasn't really that interested in lifting my 2000 Safari when I bought it but I quickly decided after a month or so of owning it that it wasn't high enough. I can't ever leave anything alone!
My goal became a lift that still rode like factory. Well I'm very happy because it rides even better than factory! Even the wife notices.
What's in my lift
3" front
- Moog 9012 springs (made for 70's Lincoln). Gave a 2" lift and good ride.
- 1" body spacers from Summit Racing and longer 12.9 grade bolts
4" rear
- 4 leaf HD S10 spings (also improved ride)
For the front, I went through a long list of coils (
here
) until I found a coil that was 2" longer with a slightly lower spring rate which gave me a smoother but still firm ride. I wanted to add to it to make a 3" lift so I ordered 1" body spacers and new bolts which only totaled $30! Why not 2" spacers? Several reasons. Cuts down on how much the engine moves away from the body, minimizes fan shroud trimming, don't want the frame to show, and I want a 1" rake in the rear.
For the rear, S10 springs are a popular way to lift it. I ordered new HD 4 leaf S10 springs and it shot the rear end way up and noticeably improved the ride. I love them!
The only thing left to do is install the body spacers, which come tomorrow, to level it out. In the mean time, I'm preparing for them by pulling off the bumper, trimming the fan shroud, drilling 1" higher on the e-brake bracket, drilling the bumper brackets to line the bumper back up properly. All that good stuff.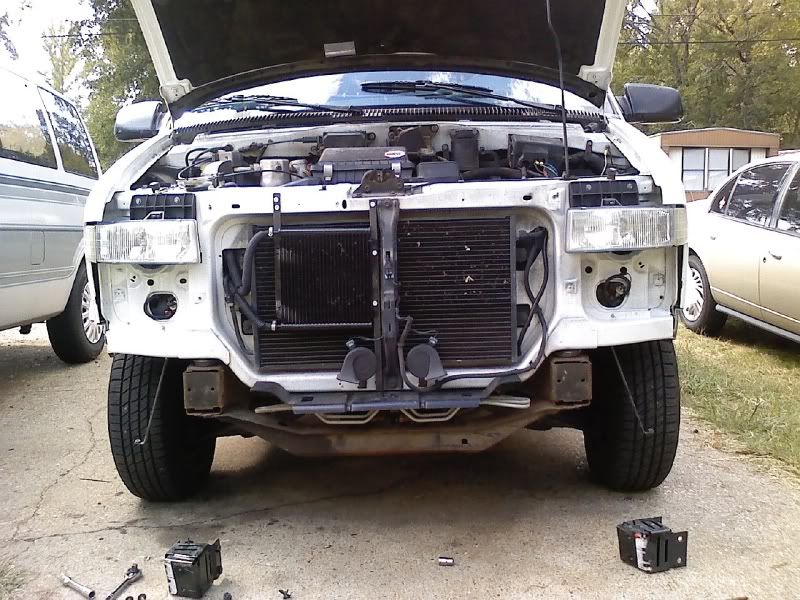 More pictures with a real camera will come after it's all put back together, shined up, and displayed in a parking lot!