I just upgraded my black rubber leaf spring bushings with red polyurethane ones. I'm totally amazed! The van handles better and feels more solid. But for me that's not the amazing part, I had expected that.
A little back story...
I have a bare bones cargo. No interior luxuries to deaden sound. I hear everything. My van creaks and squeaks like you would not believe and I had thought 90% of that came from the junk I had in back. I have stuff bungee'd to the walls and I figured all the racket had to be coming from junk rattling and banging the walls of the van. A few days ago I cleaned out the entire rear of my van so I could go pick up my new 35" tires. To my surprise I still had all the squeaks and creaks. I kept looking back while driving to see what the hell could possibly making all that noise when there was nothing back there. I figured maybe something had fallen between the sheetmetal reinforcements or something. I dunno, I can't drive and be back there trying to pinpoint the noises too. I accepted it, after all it is a lifted unibody cargo van. I expect it to be noisy.
Well....it doesn't have to be!
After I replaced all four of my black rubber leaf spring bushings (and shackle bushings) with polyurethane....the van is completely silent inside!!!!! Not a peep! It freaked me out! I had no idea all that noise was being transferred into the van from the suspension. I guess those unibody mounts for the springs must have been getting tweaked pretty good. With nice lubricated bushings.... all is silent!
I bought my red poly bushings from Ballistic Fabrication. I used to love that shop and would have recommended them to everyone before they started tacking on a $6.25 "handling fee" to their orders. I understand that fee if you're ordering 100lbs of steel goodies. But I ordered a few pieces of rubber and shipping and handling was over $20. RIPOFF! I can no longer recommend them. But I will post the part number here for reference: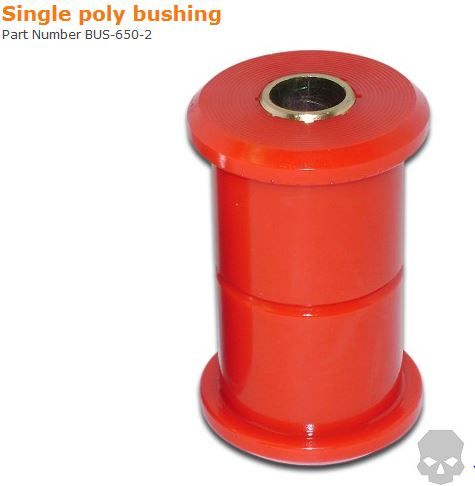 For a van with steel stock or lifted springs, be sure to order the 3" wide bushings. Part Number BUS-650-2 is for the 3" Be sure to order 4 for the springs. I'm not sure if these will work in the stock shackle or Overland shackles..I made my own. I use them in my homemade shackles.
To upgrade you need to remove the old bushings. I did this in a three step process. First I used a two jaw puller from my front end service kit. I put the jaws on the leaf eyelet and pushed out the inner steel sleeve...the one the bolt fits through. Second I used a flathead screwdriver to pry out the rubber bushing. Once those are out of the way you have a steel outer sleeve to contend with. This is the PITA part.
I tried for an hour to cut the sleeve with an air hammer. Forget that. The sleeve is thin and its hard to only cut it and not mess up the spring. I wasted an hour trying. Then I got smart and decided to make some cuts down the sleeve and pry out a section. This is best done with a hacksaw for precision, but can be very carefully done with a sawzall too.
The cuts: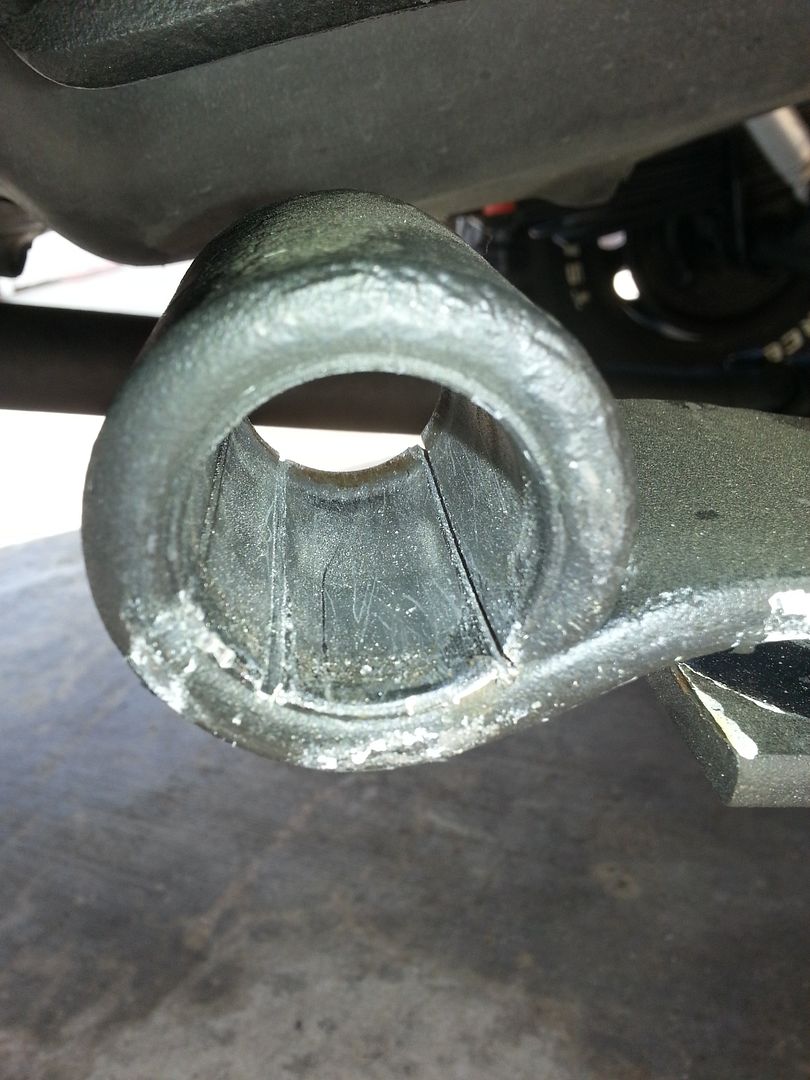 I then jammed a chisel in there and started pounding until that section ripped out:
After a minute with the sledge those sleeves will happily pop right out: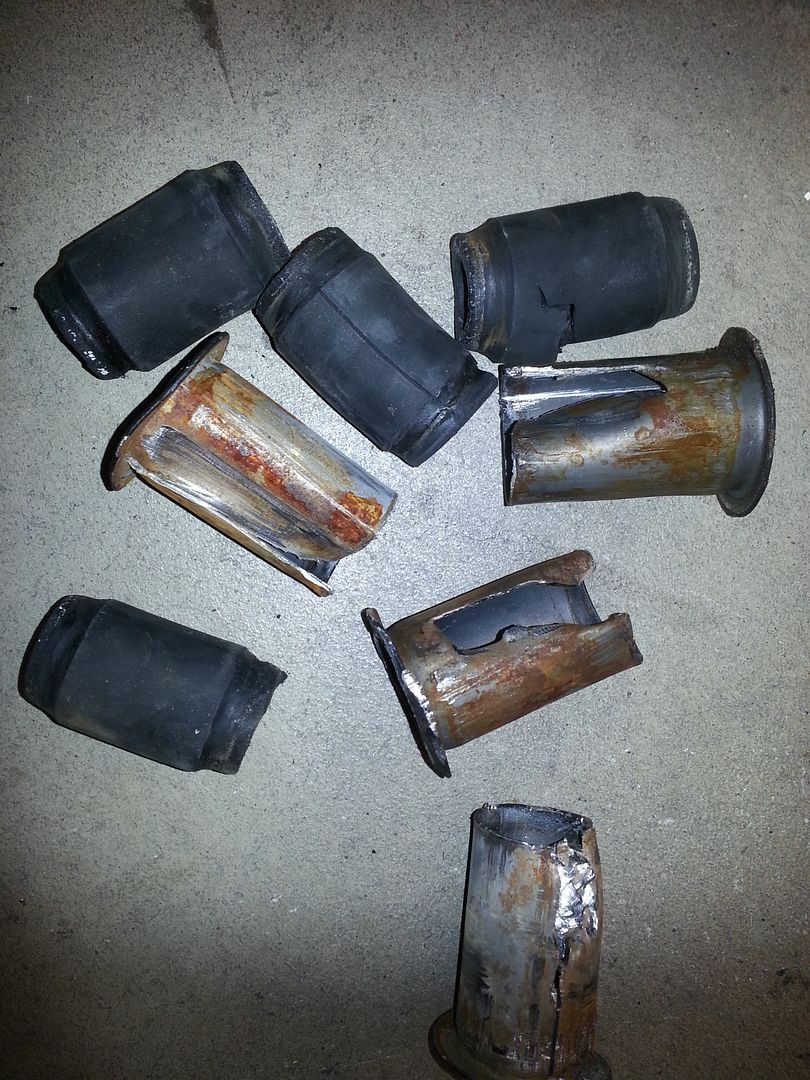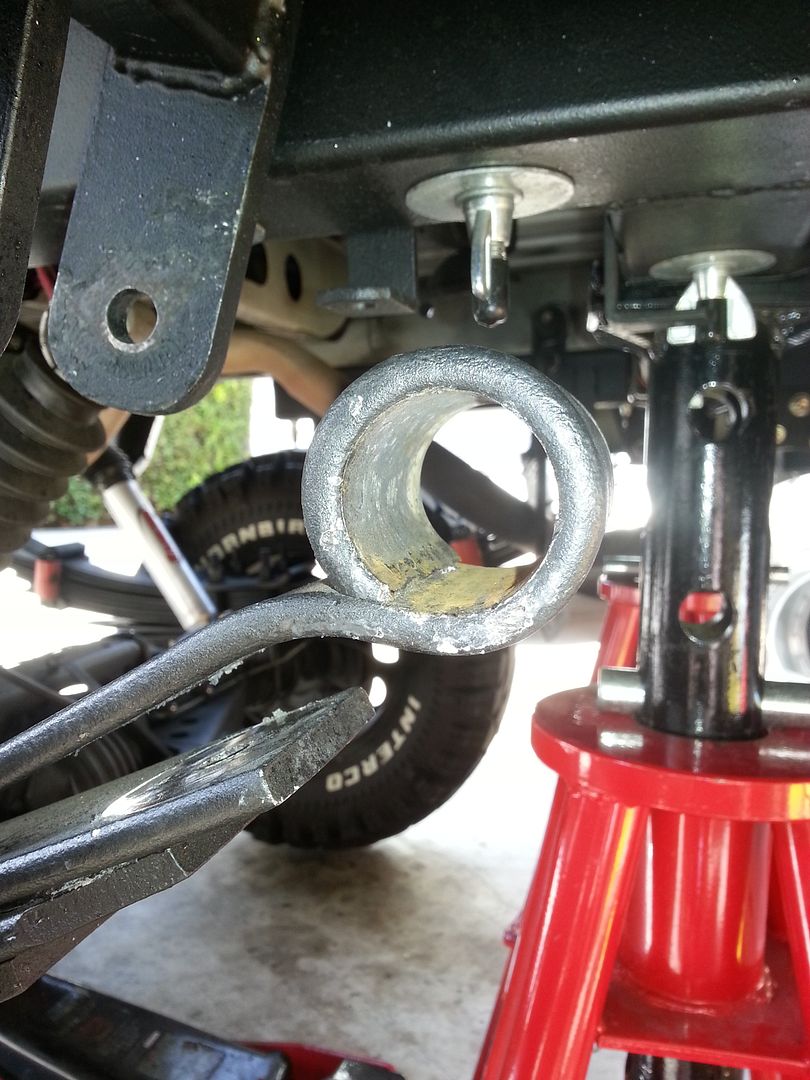 I ordered the cylinder of Prothane Super Grease on ebay. It was like $35. I think they only sell it in this large tube or super tiny packets. The tube seemed like a better deal...the packets seemed to add up quick.
Cylinder seen here all the way on the right side: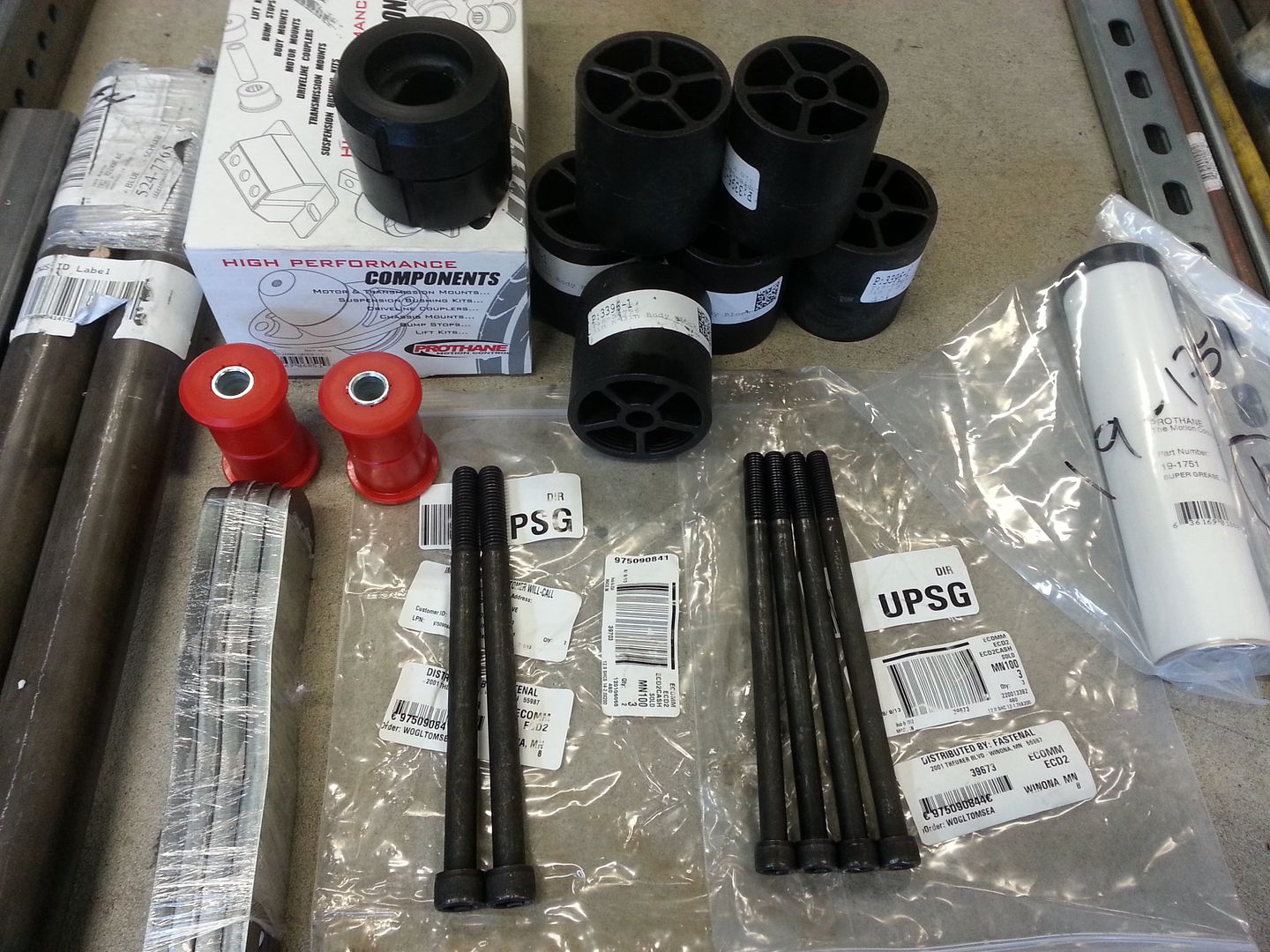 I applied some grease to the inner part of the leafs eyelet and the outer part of the bushing. They slid in nice and snug. The bushings have grooves cut in them around where the inner sleeve rests. Those grooves hold grease. Be sure to pack them generously:
(These pix are of my shackles)
Then slide the sleeve through and clean out the excess grease:
Coat the outside of the bushing and the inner sections of the shackles and spring hangers too.
All done: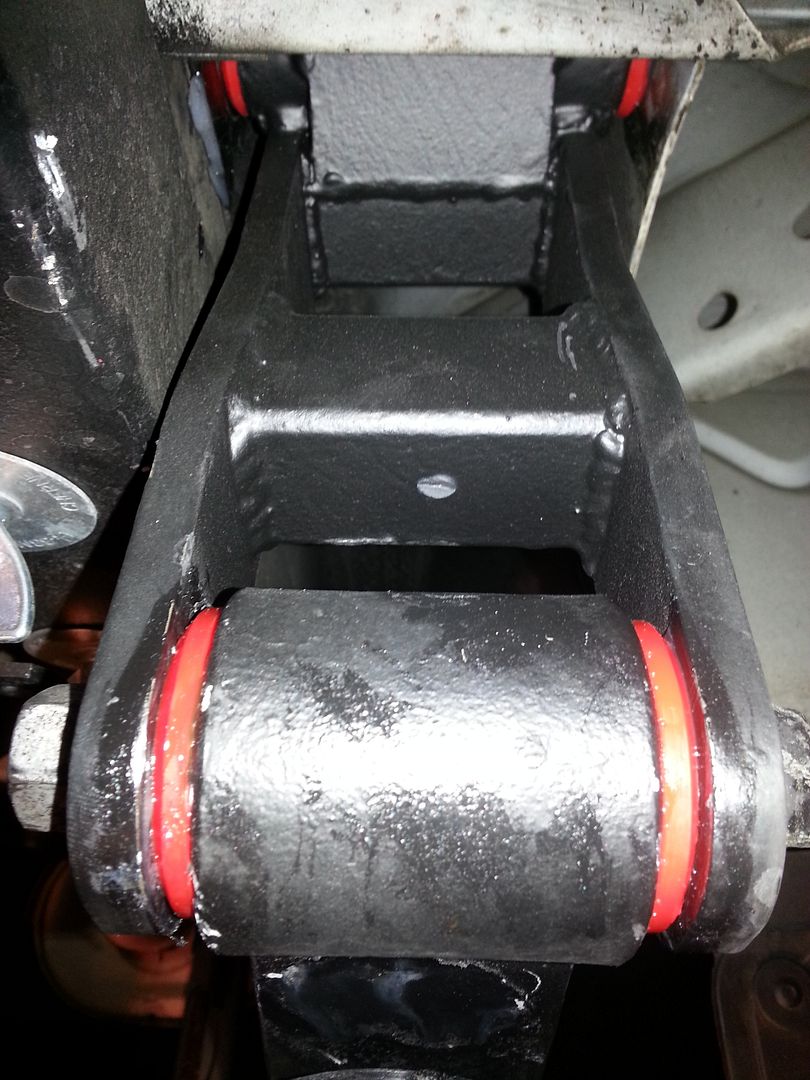 My van went from sounding like a stagecoach with a busted wheel to a luxury car interior. I'm serious...night and day difference! I'm ecstatic. I'll be doing the same on my other vehicles now too.
Less than $100 spent, maybe five hours labor.....silence is golden.