Hi,
Second post here on the forums. I am fully committed to this thing now. I've ordered and received a full 100k maintenance, rear door seal stuff and an OLV 4" lift kit. I am going to replace the carpet with either aftermarket replacement, bedliner or VanMat/VanRug marine carpet and I'm going to be visiting pick and pulls to fix up the interior some. Finally I'm going to spray on bedliner for the front and rear bumpers and side quarter panels.
This thread will be about things related to the lift of this van.
Here's a before picture of the van:
Now that introductions are out of the way. I have a question regarding fan shroud trimming I think I'll post here before I bug the OLV owner.
The instructions state to "
match mark the position of the hood latch to the radiator support
". I find this wording to be sort of confusing. Where in this picture should I be marking?
I am looking around the fan shroud and with every attachment/bolt point I see, there can be only one way this would come apart and go back together. Maybe I haven't looked close enough.
Finally I am interested in opinions on electric fans. I found an electric fan kit on eBay:
http://www.ebay.com/itm/CHEVY-ASTRO-SAFARI-VAN-ELECTRIC-TWIN-COOLING-FAN-KIT-MORE-MPG-HP-COLDER-A-C-/160781874497?pt=Motors_Car_Truck_Parts_Accessories&hash=item256f58b541&vxp=mtr
that claims to be very good.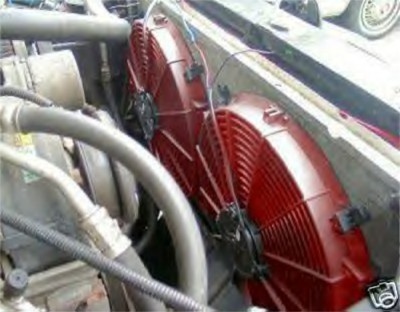 $225 seems a little bit steep, but I can really see the benefit of having an electric fan as far as having working room inside the vehicle. I realize you can DIY this with a lincoln continental fan, but I have a lot of work to do, not much time, I'm over 100 miles away from the nearest picknpull, and I need to get most of this work done in the next two months or it will be too cold outside. Unfortunately, this VAN will only fit in my garage at it's current height (and barely that). After lift it won't fit through the doorway or inside the garage/basement at all.
Does anyone have any experience with the eBay fan kits? Do they have everything I need to work nicely? How are they longevity-wise?