December 5th 2011, 4:03pm
This problem is intermittent and goes away with each key cycle but usually comes on right away after start up and usually as soon as I hit a bump or the rear end flexes the springs.

The ABS and brake light will come on but the ABS still works fine and I have not had any unwarranted ABS events while driving,only the malfunction indicator lights.

This has been going on for a couple years now but I have always been curious as to wether it was a rear wheel speed sensor or some sort of inclination sensor since it seems to happen when I hit a bump in the rear.

I have had one issue once with the power steering pump that went bad and my Wife lost her brakes....thank God she was in a parking lot and not in traffic.
I think the hydro boost brake system should never have been installed on passenger vehicles since a malfunction in your power steering or a lost belt can cost you your life.

BTW, that power steering pump replacement sure sucked, and the first one I installed was faulty,and had to come right off then the replacement one was not machined well and the tolerance was a bit too tight and was a nightmare trying to press the pulley onto the impeller shaft.
December 5th 2011, 4:14pm
Likely to be a wheel sensor/connector wire that is loose ,
December 5th 2011, 9:23pm
Also could be bad electronic brake control module (EBCM), my '04 van has the same problem and I've performed the service bulletin for cleaning the speed sensors, etc. I had a shop check the ABS code and it's EBCM related. That being said, I'm not going to pay $600-$1000 for a replacement, does anyone have experience with the repair services for these modules?
http://www.absfixer.com/index.php
http://www.modulemaster.com/en/index.php
http://www.modulemaster.com/en/Chevy/Chevytruck_info.php
http://www.ebay.com/itm/EBCM-ABS-MODULE-CHEVROLET-GMC-TRUCK-SUV-REBUILD-REPAIR-/280627606825?pt=Motors_Car_Truck_Parts_Accessories&vxp=mtr&hash=item4156b57529#ht_1390wt_1014
I'm surprised your ABS still works when the lights are on, mine doesn't. I was able to cycle the ABS and brake lights off long enough to get an inspection sticker - while driving I put van in neutral, turned off, turned key back to on position and restarted, put back into drive, etc. Lights happened to stay off long enough for it to pass driving around the lot but I'm really sick of the problem as braking capacity is seriously diminished in wet and slick conditions.
December 6th 2011, 5:33pm
Came across this in understanding why when ABS / brake lights engaged braking performance deteriorates due to Dynamic Rear Proportioning (DRP) being disabled.
ABS Indicator


The IPC illuminates the ABS indicator when the following occurs:
The Electronic Brake Control Module (EBCM) detects an ABS-disabling malfunction. The IPC receives a class 2 message from the EBCM requesting illumination.
The IPC performs the bulb check.
The IPC detects a loss of class 2 communications with the EBCM.
Brake Warning Indicator


The Instrument Panel Cluster (IPC) illuminates the brake warning indicator when the following occurs:
The Body Control Module (BCM) detects that the park brake is engaged. The IPC receives a class 2 message from the BCM requesting illumination.
The EBCM detects a low brake fluid condition and sends a class 2 message to the IPC.
The IPC performs the bulb check.
An ABS-disabling malfunction also disables dynamic rear proportioning (DRP).
Dynamic Rear Proportioning (DRP)


The dynamic rear proportioning (DRP) is a control system that replaces the hydraulic proportioning function of the mechanical proportioning valve in the base brake system.
The DRP control system is part of the operation software in the EBCM. The DRP uses active control with existing ABS in order to regulate the vehicle's rear brake pressure.
The red brake warning indicator is illuminated when the dynamic rear proportioning function is disabled.
I spoke with a local shop and they can repair EBCM for $70 with 1 year warranty and 1 day turnaround so first I'm going to test the ABS pump motor via these instructions from ModuleMaster.com
http://www.modulemaster.com/en/wizard/kh_325/both_lights_causes.php
and proceed from there.
ABS Wizard
Kelsey Hayes 325

If both the ABS and brake light come on while driving, please check the following:

1) Make sure the 50A ABS fuse is good. It is located in the fuse box under the hood.

2) If you live in a snowbelt state, or where de-icing material is used on roads, your ABS pump motor could have corroded wires, especially if both lights come on after hitting a bump. First visually inspect the connection. The pump motor is located on the ABS hydraulic unit.

3) If corrosion appears on the pump wires, unplug the connector, and using a multimeter, measure the resistance of the motor. You should read low resistance (1-5 ohms). If the reistance is infinite (indicating an open circuit), the pump wires will need to be replaced.

If you are skilled with electrical repairs, you will need to open the motor and solder new wires to the brush holders and replace the connector. ModuleMaster can also repair your pump motor for you. Please call for price.

In cases where there is significant corrosion, the pump motor could be seized up (frozen). To test if the motor still runs, connect 12 volts directly to the motor connector using a pair of clip leads.
EBCM Removal
l
http://www.modulemaster.com/en/Chevy/Chevytruck_info.php
http://www.modulemaster.com/en/abs/kh_325_removal.php
Removal Procedure


On most Chevy trucks, the ABS module is mounted to the left frame rail under the driver's seat.




Note: We can only rebuild the Kelsey Hayes 325 module (see photo far right). The Series 30 is similar, but has a third connector as shown. Both the Series 30 and 310 are unrepairable and must be replaced.

1) Make sure the ignition is off when you disconnect the module or it could be permanently damaged.

2) Remove the connector(s) from the module.

3) Remove the screws that hold the module to the hydraulic control unit.

4) Cover the exposed surface of the hydraulic unit with aluminum foil.

5) You can still drive your vehicle since the brakes will not be impaired by removal of the ABS module. On certain vehicles, the speedometer receives an input signal from the ABS module and may not function until the module is back in place.
December 6th 2011, 5:39pm
Vehicles like ours have a VSS sensor on the transmission that sends van speed data to the PCM which is connected to the the ABS module

sometimes cleaning the electrical connecter on the ABS module can fix the problem , sometimes connector is dirty and circuit gets interrupted for a moment
December 6th 2011, 5:51pm
Here is the wiring for the ECBM
Attachments

ECBM module .JPG (35.57 KiB) Viewed 21631 times
December 6th 2011, 10:58pm
Thanks for the diagram, is there a test for the rear speed sensor and any differences between rwd and awd sensors other than push into trans vs threaded into t-case?
I know you can test the front wheel speed sensors at the connectors while spinning the wheel (180-250 millivolts) and resistance (600-2400 ohms).
I tested the ABS motor and is within spec for resistance (1-5 ohms), runs when directly supplied with 12 volts and has 12 volts to connector with fuse intstalled. So I removed the EBCM (Kelsey Hayes 325) and dropped off for repair, should have it back tomorrow afternoon.
Here's a picture of the abs pump with EBCM removed from the assembly. Wasn't too difficult, removed ABS fuse and two nuts for the shield, the T20 torx screws were tough to access but came out with relative ease. You can see the connector on the motor which attaches to the EBCM and supplies power to the motor. I covered everything with foil to keep things clean until I get the EBCM installed.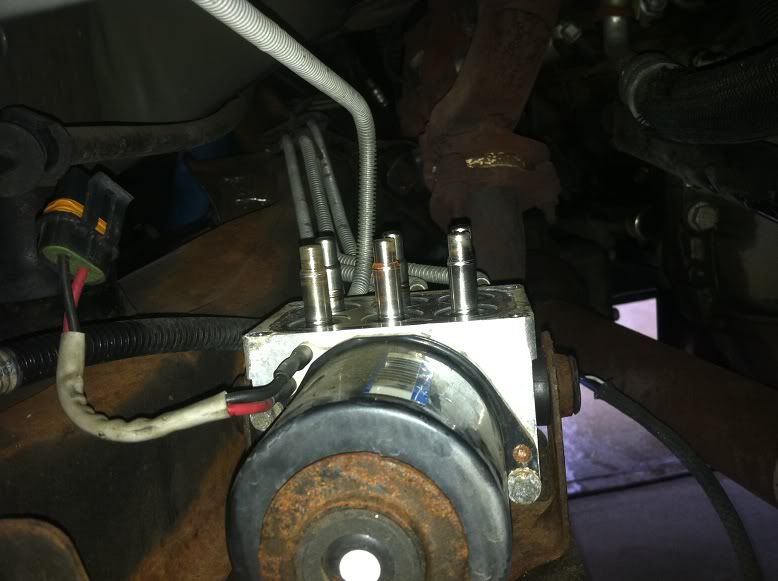 December 9th 2011, 7:29pm
Just wanted to update that the the ebcm repair service fixed my problems - no more abs / brake lights and system functions as it should. Repair cost $70 with warranty and quick one day turnaround from
http://www.atlantaspeedometerservices.com/Services.html
.
December 14th 2011, 5:32pm
Thanks for your info.
The link is not working though. How did you get one day turnaround is it in your area?
Ebay had a similar service
http://www.ebay.com/itm/380294179977?_t ... 5045wt_905
December 16th 2011, 5:25am
I dropped it off and picked it up next day but they do a quick turnaround for shipping it as well. I know they just moved into a new location and told me they are expanding their business to include Corvette performance work, so maybe why the website is down. They are on Ebay also:
http://www.ebay.com/itm/EBCM-ABS-MODULE ... 1409wt_911
I think they all do the same thing for the most part, I just had a very good experience dealing with them.
You can still drive your van with EBCM and ABS fuse removed, I would cover everything with foil or plastic wrap.
Edit: Looks like website is back up.
Oh, and I posted this picture of the ECBM in the General section but forgot to add it here for reference:
August 18th 2012, 6:24am
Wow! - I so need to have mine ECBM repaired - GM quoted me almost$2000,
i've got a 2002 Chevy Astro, anyone know a shop in Ontario that will do the ECBM repair? HELP?!
August 23rd 2012, 12:08am
The official DIY FIX for this problem is HERE:
viewtopic.php?f=45&t=16006
January 13th 2015, 4:57am
Phantom wrote:Likely to be a wheel sensor/connector wire that is loose ,
How many wheel sensor does an 2000 astro AWD have? I could see the front wheel sensors and their wiring, but I did not see any sensor on the rear wheels. Can anyone help? Thanks.
January 13th 2015, 5:01am
It's not at the rear wheels, it's on the transfer case, iirc.
January 16th 2015, 4:31pm
Thank you Leeann_93, you are always so helpful! I will look at it when it is getting warm.
January 16th 2015, 11:31pm
On the rear of the tranny, actually (I looked it up). Two wires (one connector): purple/white and light green/black.
June 23rd 2015, 1:31am
I can't help but wonder if anyone from GM reads this. Whoever the IDIOT that called themself an engineer that thought it would be acceptable to use a T20 Torx screw facing up under a vehicle is beyond me. This has been an ongoing issue with GM truck and vans for years and they just kept on year after year turning out the same crap. Then want $1200-$1800 to repair something they know is defective from the start. After years of being a mechanic and an avid GM supporter this is the last straw. Never again will I own another GM vehicle. PERIOD!

Just venting here but I'll be doing more than venting to GM. I am going to make it my life mission from this point forward to cost GM as many sales as possible as long as I'm sucking air on this planet!

Thank you all for posting this, what should be a recall. Piece of crap. I'm about to re-install the module however all I have is three studs sticking up because the screw are corroded in the pump. I'm going to use one replacement screw that I was able to get out, one broke off in the pump and the other two are not coming out. So I'm going to use the studs sticking up and the one screw that will go back in and then a long worm gear clamp around this substandard southern engineered Chevrolet piece of crap to put it back together. Then I'm going to write every GM management I can find as well as every forum I can find and go about the business of making this scenario written here as public and social as possible. Piece of crap. Thanks again folks, I really appreciate you all helping with this.
October 28th 2015, 3:13am
Hey thanks for the idea... cut the heads off then strap the top back on! I just went to do the repair the other day but being in the rust belt the torx screws are barely recognizable. Only one has a vague torx shape. If there's enough clearance for my flex shaft dremel thing I'll just drill the heads off. I'm thinking a webcam jammed up there might let me see enough to do the drilling. Removing the brake lines is not an option given their condition. Removing the seat and cutting through the floor is another option I'm considering.