Looking into some new rims and tires...here are the two rims i've narrowed it down to..
Now the tires are a little harder for me...I want something cheap (no more than $110 each), but new, that will hold up pretty decently.
I got a couple in mind...
BF Goodrich Radial T/A
BFGoodrich® Long Trail T/A® Tour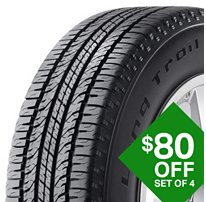 What do you think?
And while your here another quick ? what damage can be done running a different size tire on one side? I had a tire go bad and I had a spare its a 235/70r15 but whats on there is 235/75r15. Is that too big a difference or can i run it until i can get my new set next week.